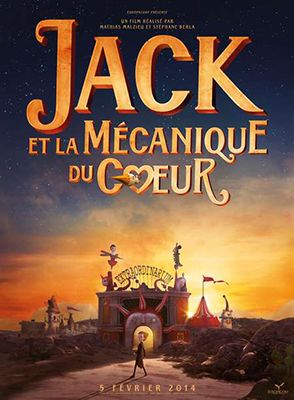 Jack and the Cuckoo Clock Heart hails from France. It was created as a "rock opera" based on the concept album, La Mécanique du Cœur.
The film begins with a sequence of the "coldest day ever" where we see the town go from snowy to frozen over in stunning fashion. The gothic spires, twisty streets, and angular architecture evoke just the type of macabre visual style that I love. The style becomes ever more realized as the movie goes on introducing things like an accordion stream train (seriously, this was so cool) and a sideshow filled to the brim with odd characters.
Additionally, a couple of scenes which melt into one another and back again are a dizzying delight. And the dream sequences of Jack and Acacia have a lot of charm.
The combination of imagination and technical detail was incredible in Jack and the Cuckoo Clock Heart.