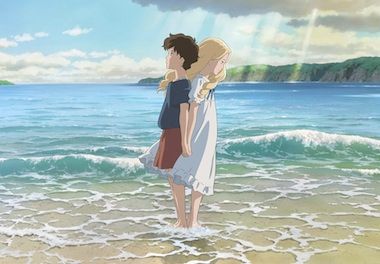 This year's New York International Children's Film Festival started off on a pretty high note, especially as an anime fan. The opening night premiere was the latest film from an anime production team that needs no introduction: Studio Ghilbi.
When Marnie Was There (pronounced: MAR-knee) begins with one of the classic setups for children's stories: moving from the city to the country and discovering a bit of magic in the process. Tween Anna is living in the city but after another bad attack of her asthma her mother decides to send her to the country. Anna makes her way from the bustling streets of Sapporo to a small seaside village to stay with relatives she barely knows.
Once Anna arrives, she falls in love with a beautiful foreign mansion overlooking the marsh. I understood her because I too wanted to paint the house and walk its halls. Anna spends most of her days exploring the area, drawing, and playing with the little girl who lives there, Marnie.
At the same time, reality starts to get blurry.