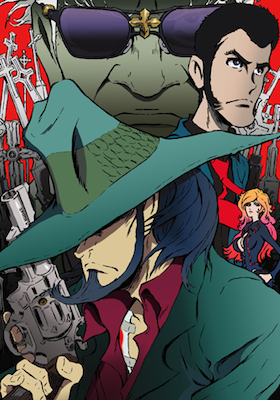 It really seems like there has been a Lupin renaissance lately. Lupin has always been popular. That is not in question. It has become staple of the anime landscape. Much like Doraemon or Sazae-san it is institution that always has some sort of yearly presence. The Castle of Cagliostro is still considered to be part of the essential part of the anime canon, the three Lupin TV series are fondly remembered classics (Lupin Part III less so), and the movies have been getting some extras heavy releases from Discotek Media. At the same time Lupin was increasingly been seen as a property whose best days were behind it. While old school fans had a distinct fondness for the series it was almost all nostalgia. The recent crop of TV specials are generally considered mediocre and Green vs. Red is almost universally reviled. Lupin seemed to be moving forward mostly thanks to momentum more than anything else.
Then came Lupin the 3rd: The Woman Called Fujiko Mine. It was smart, sexy, challenging, and unpredictable. (Much like Fujiko herself.) It took the characters and reintroduced them in a manner closer to the original Monkey Punch manga while updating the overall style and storytelling. Not everyone loved The Woman Called Fujiko Mine. Some people did not like the ending, other people felt they changed Zenigata too much, whereas others felt the feminist message was a bit muddled. But the thing is people were talking again. Lupin was an active part of the English-speaking otaku conversation. It was no longer a museum piece or a Japanese oddity like Kochikame. When the new TV series was announced to come out this year it was anticipated like it was hot new property.
In between The Woman Called Fujiko Mine and the 2015 series was the film, Lupin the 3rd: Jigen's Gravestone. It is not a full sequel to The Woman Called Fujiko Mine but more of a side story set in the same timeline that just happens to be set after the TV series. As it just started streaming on Hulu we decided to see if this is a worthy follow-up to Fujik or if it is something you should ignore until the full adventures of the blue jacket Lupin is unveiled.
 Truth be told, I like Lupin the 3rd but I haven't seen a whole ton of the catalog. I am familiar with the big stuff like The Castle of Cagliostro and I have seen a few specials and TV episodes over the years. I've also watched the Lupin the 3rd VS. Detective Conan installments because of course! And I fell in love with The Woman Named Fujiko Mine. I just dip my toe into the Lupin franchise now and again and usually enjoy myself.