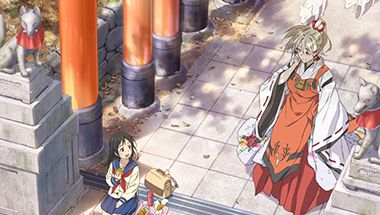 (Watch Inari, Konkon, Koi Iroha on Hulu for free.)
 If you asked anyone what their favorite series from this season was you would get a wide selection of answers but Kill la Kill and Space Dandy will probably come up the most. On the other hand if you ask Kate she will say Kuroko's Basketball because . . . well she is Kate. BUT if you ask what was the best NEW show of the season we would both pick an anime that is sadly overlooked. It is a wonderful mix of comedy and romance. A series based on a seinen manga with a shojo appeal. That show is Inari, Konkon, Koi Iroha.
Inari, Konkon, Koi Iroha is easy to dismiss as the "spirits and humans" story of the season to fill for a lack of a new season of Natsume's Book of Friends or Mushishi but that is selling the show short. Konkon has an infectious joy that sets it apart from the pack. Unlike some other the other anime and manga in the genre that either go for a gentle melancholy or a soft warm glow like Kamichu! and Gingitsune this show goes for the laughs first and foremost. But at the same time there are some strong romantic undercurrents and well as solid friendships to bring it all together.
It is funny to use "nice" as a way to describe a show I want others to watch, but Inari Konkon Koi Iroha is nice. Nice like it wraps you up and makes you feel good while watching it. You might find yourself sighing in contentment while viewing the show even.
But that's not to say niceness is the only quality the series has to offer. Inari Konkon Koi Iroha is a nice, hilarious, fun, and sweet story featuring wacky gods, new loves, and the bonds of friendship.