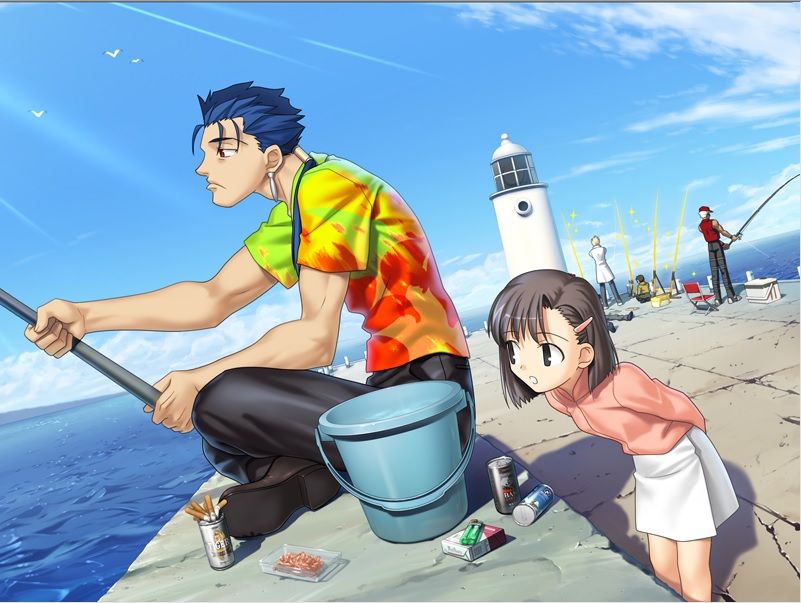 It seemed like Fate/Hollow Ataraxia was in an eternal limbo where is was fairly close to being translated but at the same time became a running joke that it would never be finished in some sort of Zeno's Paradox. It seemed the closer it was to be done the longer it took between updates. The original game came out on  October, 28th 2005. In the mean time on April 12, 2012, 6 years and 5 months later, Mahou Tsukai no Yoru was released. It quickly became an odd race to see which of the two would come out first. In the beginning it seemed like Witch on the Holy Night would easily cross the finish line before its predecessor. But then Mahou Tsukai no Yoru crashed into the same wall that Fate/Hollow Ataraxia had hit and both of them were in limbo. Then the cold war was finally broken.
If you have even seen a stalled fan work you will quickly realize that threats, pleas, well wishes, and indifference either do nothing or actually actively block progress. Threats and insults just usually make the people behind the project wonder why they started such an undertaking for an ungrateful audience. Pleas often just become regarded as passive aggressive threats rather quickly. Well wishes often start off as encouraging but often become a weight around the teams neck as time goes on. Indifference is usually the greatest killer of stalled projects as they give permission to whoever is working on the project to finally let it go.
There are usually only three things that revitalize such a project. The first is new blood. A new addition to the team can sometimes stir things up. The only problem is new people can easily throw off a team dynamic permanently killing the project and often such projects are not quick to take on new people anyway. The second is new inspiration. Sometimes the people involved will just get a second wind and finish off a project.The problem with that is that while there are 1001 events that can trigger such a renaissance the muse is fickle and such events are extremely rare and unpredictable. It turns out the most common thing that spurns these projects to be finished, in my humble opinion, is wounded pride. I have seen dozens of projects that seem like they will never move forward that spring to life when someone else looks like they might beat the original team. An official license or a rival group has completed thousands of projects that an ocean of cheers and jeers have not budged.
Fate/Hollow Ataraxia is no exception to the rule. It seemed that someone leaked a working copy with Google Translations as place holders in the unfinished parts. A few month later the full real translation was complete. Forget about love or hate. It seems that spite is one of the most powerful forces of the planet.
But with that sordid affair in the past we are mostly here to answer the real questions. How is Fate/Hollow Ataraxia as a follow-up to Fate/Stay Night? How do Caren, Bazett, and Avenger stack up to the original cast? Is there enough Saber?
The answer to the last question is always no.