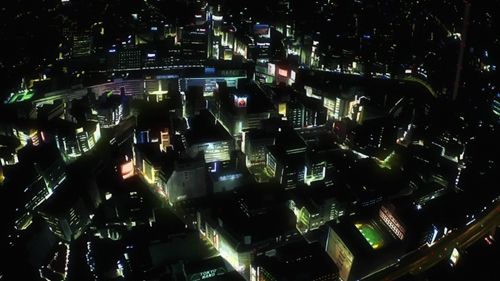 SPOILER WARNING FOR DURARARA!! S1-S2
 Durarara!! vividly depicts the area known as Ikebukuro. We see it teeming with all kinda of people (and those not quite so human) who hurry down its streets. As with any metropolitan area, it seems like a place that swallows one up, where one can look around and only see strangers. And yet . . .
 Durarara!! always reminds me of the Guy Ritchie movies Lock, Stock and Two Smoking Barrels and Snatch. These hyperlink cinema stories don't use a typical linear narrative but instead weave together a single tale by viewing the story from several perspectives that ebb and flow together in a way in which the full picture can only be seen by adding up the incomplete perspectives of all the characters involved. These stories almost always also jump around in the story's timelines as often as they switch the perspective character. While at times this makes the story a bit confusing this lets the author hide pieces of the narrative so that they can be very rewarding when the audience discovers the whole picture at the end.
I know that form of storytelling is not for everyone. I have even head a few accusations that Durarara!! weaves its narrative this way more to make itself look fancier than it really is or hide flaws in the work. If you don't like the series because of how it unveils its secrets that is a valid response. It is legitimately not everyone's cup of tea. The criticism I can't approve of is the idea that there is no reason for this style at all. Ryohgo Narita clearly structures his books (and by extension the anime turns out this way) for a mechanical reasons in which this method of storytelling reinforces the themes of Durarara!! as opposed to obscuring them. That synergy of theme and form is worth examining for how it enhances the potency of Durarara!!'s overall impact.