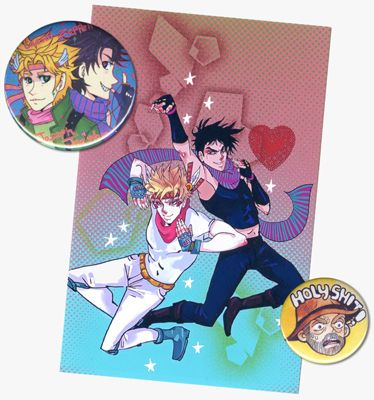 I was pleased to see the variety returning to Otakon's Artist Alley this year in terms of style, series displayed, and even the wares themselves. The up and coming items seem to be zipper pouches (which started showing up a couple of years ago but which now have exploded), lanyards, and, surprisingly, scarves. Despite these new crafts, I kept to my usual collections if only to stop myself from going into a frenzy of buying. How long I will hold out, especially with regards to lanyards, will remain to be seen.
As with the AnimeNEXT alley this year, there didn't seem to be one or two titles that took over every booth. Certainly, Attack on Titan was quite popular, but with no new anime recently it seems to have kept it from overtaking everything else, at least in regard to what artists were making fan creations of. I was pleased to see a lot of the recent sports titles: Haikyu!!, Yowamushi Pedal, and Free! being represented, too.
It is a lot of fun for me to go to an artist alley with a new series to collect things from, for Otakon this year that was JoJo's Bizarre Adventure. There was no way I was passing up a Joseph Joestar button proclaiming "Holy Shit!" and the Joseph and Caesar postcard was from the same talented artist Doro. The Joseph and Caesar button is by Tayla. I loved the stylization in both of these, it is clear who the characters are but they still bright and fun on their own.