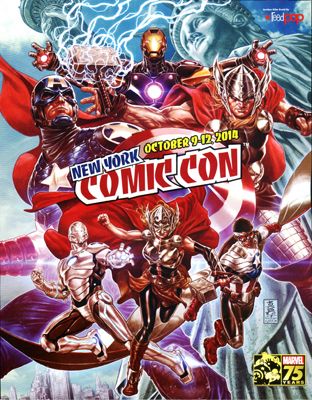 Only at a media bonanza like NYCC is the show floor a destination; a place where many attendees spend their entire convention. Each year it seems to take longer and longer to explore all of it, and to be honest I'm not sure I actually did get to every corner.
But it isn't just the industry booths and chance to buy merchandise that has grown immense, so has the artist alley. There was an increased awareness of the real live creators just a hallway away last year and finally in 2014 it feels like everyone knows what and where they alley is.
 My youngest brother and his significant other went to NYCC this year after hearing about my experience last year. Due to their schedules they only went on Friday. They came in when the convention started and left as it ended and they spent their whole day in two places: The show floor and artist alley. They thought about seeing one or two of the panels in Main Events but a quick look at the whiteboard told them that all the wrist bands for anything they wanted to see were long gone. Despite that they had a great time. Why? Because there is enough to do on just the show floor or artist alley that you could spend a whole day at either and not explore every part of it.
The last few years I have been using Thursday to explore as much of the show floor as I could. The crowds are smaller and there was not that much else to do so it was the best time to hit the show floor and play games or hit booths that would have lines that would eat up a large chunk of your time. This year however there were actually a full slate of panels this year as opposed to the sprinkling of panels you saw in the past. That meant that you had to decide if you were going to explore the show floor when it was only moderately crazy or see the panels on Thursday and then experience the show floor when it is in hyperdrive mode.